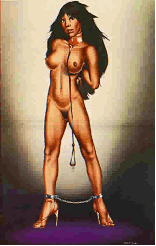 IMAGE BY THE LATE BOB BISHOP
Welcome to my homepage and thanks for dropping by! So, relax, take a seat and get comfortable for a good read.
What you will find here are stories about dominant Masters, Mistresses and the submissive women who serve them as slaves. My writings contain nudity, B&D/S&M, coercion, sex and the subjugation of initially unwilling captive females. If any or all of these themes might cause you discomfort or distress, I recommend you LEAVE immediately.
For those who choose to stay, I will only say that these stories are the product of my imagination and do not reflect my "real world" view of life, or of women, submissive or otherwise. They are my fantasies and I invite you to share them in the same way that I wrote them - with tongue firmly in cheek - for the joint pleasure of myself and the wonderful lady who shares my life, my adored wife, lover, best friend and occasional slave, the lovely maxi.
Please note that the writings on this site do not reflect the reality of a loving and consensual D/s relationship. Neither I nor the Web host condone or encourage, in any way, the enforced or unwilling enslavement of any person, male or female, and would support the strongest possible action against those who attempt to achieve this.
If you cannot or do not wish to understand and accept this disclaimer, then you do NOT have permission to read my works.

The site has been awarded a "Quality" listing by
janesguide.com

Please feel free to take copies of any stories for your own personal enjoyment, but I would be grateful if you didn't post them anywhere else, as they remain my copyrighted property.
I would be pleased to receive any comments you care to make concerning my work (even criticism, if not too unkind) as it encourages me to write more and to improve the quality. If you have ideas for new stories, or follow-ups to anything I've done, I'd really like to hear from you at the e-mail address given below. So, don't be shy and let me know what you think. I can't promise to use your suggestions, but I will reply to anything you send as soon as I can.
Happy reading!
Please check the

NEWS SECTION

for the latest updates.
NEWS PAGES FOR:
2008 - 2009 - 2010 - 2011 - 2012 - 2013 - 2014 - 2015 - 2016
Geetwo and maxi
Contact: writergeetwo@googlemail.com
© Geetwo 2008